DEMO ARTIST: FRAN SUTHERLAND
DECEMBER 14TH FROM 1:00 – 3:00 PM
"Reflecting and Reflections"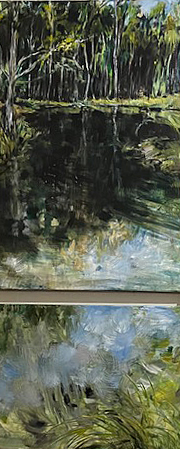 Fran uses Eastern influences and meditation in her art. Her mixed media paintings use the surface, as well as the medium to express reflection and reflecting.  In her presentation she will discuss the intrinsic qualities of mixing media and demonstrating how to use oil sticks and acrylic paints to create a resist and stain the canvas.  She will talk about using acrylic paints on different surfaces, mixed media, and how media has changed over the years.
Fran is excited to help artists explore their creative process, while referencing her own artistic journey. We look forward to having one of our own members share their creativity and wisdom!
Fran Sutherland, a native New Yorker, is a classical trained painter and educator who developed an art curriculum that coordinated with global students. She has taught watercolor, acrylic, oils, mixed media, in addition to photography, silk screening, and encaustics. Fran's creative paintings synthesize both Eastern and Western formats in multi-media works. Her teaching objective is to show how the chosen media and techniques express personal ideas.
An award-winning artist and teacher, Fran Sutherland earned her BS and MS degrees at the State University of New York at New Paltz, NY. She is a member of the Arts Society of Kingston (ASK) Kingston, NY, Woodstock Art Association and Museum (WAAM), Woodstock, NY, Tubac Center of the Arts, and the Santa Rita Art League (SRAL), Green Valley, AZ. View works by Fran at http://www.fransutherland.com/.